WHO AM I

I am from India but I have been living in Europe since long. I am currently doing my PhD but I also write novels and poetry. I am trying to publish more of my books. I am also a traveler, mind it, not a tourist, and I explore new places like a local. I also enjoy photography and cooking.

WHAT I DO IN RESEARCH

As the PhD researcher at LUISS Guido Carli University, Rome, I explore how coordination dynamics unfold in workplace. I use a micro-lens exploring the egos, personal agendas, and conflicting goals of the individual actors in organisations. Thus, I use a organisational behavior lens. More of my research can be read here.WHAT ABOUT WRITING & OTHER THINGS

I also write novels and poems that explore the vivid psyches and emotions of people and their darker sides. Almost all of my novels deal with some kind of mystery, suspence, or thriller story. From murder crimes to abduction mysteries, they would be a good read for those who love such genres. On the other side, I also write novels that look at human emotion while enjoying a little darkness again. For instance, Dichotomy explores the concepts of love, bisexuality, and romance combined with mystery in the past while Matter, Leah is a revenge story with a slight supernatural touch.

Poetry is a new interest for me. I was inspired immensely by the spoken-word poet Sarah Kay and the aim is to someday create very good poetry. Unspoken Words could be a collection of poetry that deals with a myriad of emotions we have.

TRAVELINGOther than writing, both in research or in creativity, I also travel a lot learning from other cultures and cuisines to understand people and also to set my novels in different locations. I believe in being a traveler rather than a tourist, not just visiting all the touristic sites we find all over the internet, but exploring the nooks, less trodden paths, and restaurants visited by locals.

What entices me in traveling is meeting new people, learning about new cultures and tasting new foods. I have been to romantic havens like Venice and Geneva, beautiful cities like Rome and Interlaken, peaceful small-towns like Freiburg and Verona, business destinations like Basle and Luxembourg and more. Wherever I go, I try to meet new people and learn about their cultures. I am a big fan of just roaming around the city taking in the aesthetics and air the city has to offer; often the city itself shares its stories with you. A glass of drink with local people, listening to the stories they tell, is the perfect end to the day.



PHOTOGRAPHY & COOKING

​I am quite interested in photography, I believe a picture speaks more than a thousand words and capturing life in them is great. Cooking takes an important part of my life, I am not bounded by the cuisines nor tastes, but along with eating, it is one of my hobbies.

---

My favorite poem tells more about me - The Road Not Taken by Robert Frost

Two roads diverged in a yellow wood,
And sorry I could not travel both
And be one traveler, long I stood
And looked down one as far as I could
To where it bent in the undergrowth;

Then took the other, as just as fair,
And having perhaps the better claim,
Because it was grassy and wanted wear;
Though as for that the passing there
Had worn them really about the same,

And both that morning equally lay
In leaves no step had trodden black.
Oh, I kept the first for another day!
Yet knowing how way leads on to way,
I doubted if I should ever come back.

I shall be telling this with a sigh
Somewhere ages and ages hence:
Two roads diverged in a wood, and I--
I took the one less traveled by,
And that has made all the difference.
MY EDUCATION

I have a Master of Global Management from Antwerp Management School, the Authonomous Management School of the University of Antwerp, Belgium, one of the prestigious b-schools in Europe, Financial Times ranked and AACSB and NVOA Accredited. Before that, I did a Bachelors in Technology/Engineering from Jawaharlal Nehru Technological University, a renowned engineering school in India. I am well aware of technical jargon and can work with tech brands easily and effectively.

---

WORK EXPERIENCE
​I worked as the Business Partner, South India, of Blue Digital Media, one of the leading Digital Branding Solutions provider in India. I dealt with clients directly providing Quick — Analytical — Result-oriented value to them. I looked after the operations of both Blue Digital and its clients in South India designing Brand Building strategies and delivering results. Prior to this, I have worked as the Strategist, European Corporate Strategy and Marketing, for the sister companies Samarth Diamond and Craft Diamonds bvba with presence in India, Belgium, Hong Kong and Dubai. For full profile, visit my LinkedIn.

---

---
Powered by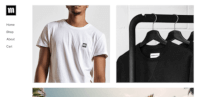 Create your own unique website with customizable templates.